Frequently asked questions
What kinds of pets is the SensePet Clip compatible with?
---
Sensepet Clip can be used on dogs of all sizes and cats.
---
Can I use a SensePet Clip on multiple pets?
---
Yes, the SensePet clip can be shared among your dogs and cats.
---
How would I take my pet vitals with SensePet?
---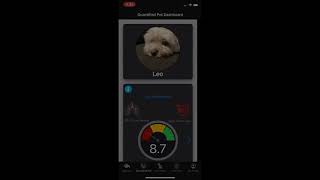 ---
Does the SensePet Clip need to be charged?
---
When the SensePet Clip's power button is red, it means you need to charge SemsePet Clip​​​​​​​ (see Picture). The SensePet Clip will also display the battery level when connected to the SensePet Clip. To recharge SensePet Clip simply connect it to the included micro USB and using any 5 volt USB charger to charge it.
---
Does SensePet Clip have a warranty?
---
Bionous SensePet Clip warrants this Product to be free from defects resulting from faulty manufacture or faulty components under the following terms:
Warranty Period
Bionous warrants parts and labor for six (6) months from the date of original purchase ("Warranty Period") from Bionous or an authorized Bionous distributor. Bionous further warrants the repaired or replaced product to be free from defects in material and workmanship for a period of thirty (30) days from the date of repair or replacement, or the remainder of the warranty period, whichever is greater.
Protection
This warranty is enforceable only by the original purchaser, is non-transferable, and expressly excludes any product that has not been purchased as new from an authorized Bionous source. Further, this warranty is only applicable in the country or territory where the product was purchased. This warranty does not apply to Bionous products that are obtained as a result of the purchase of a non-Bionous product.
Coverage
To the extent permitted by applicable law, this warranty does not apply to:
normal wear and tear;

damage which results from accident, abuse, misuse, neglect, improper handling, or improper installation;
damage or loss of the product caused by undue physical or electrical stress, including but not limited to moisture, corrosive environments, high voltage surges, shipping, or abnormal working conditions;
damage or loss of the product caused by acts of nature including but not limited to floods, storms, fires, and earthquakes;
damage caused by operator error, or non-compliance with instructions as set out in accompanying documentation;
alterations by persons other than Bionous or its authorized repair agents;
products for which the product's serial number has been tampered with or removed; counterfeit products;
damage or loss of data due to interoperability with current and/or future versions of operating system, software, and/or hardware;
damage or loss of data caused by a computer virus, worm, Trojan horse, or memory content corruption;
damage caused by any power source not provided with the product;
failures of the product caused by products not supplied by Bionous .
Service Procedure
In the event that the hardware product proves defective during the Warranty Period, then upon presentation of your proof of purchase, you are entitled to return the hardware product to us for repair with new or reconditioned parts, or for replacement with a new or refurbished model that is the same or similar to the original, at the discretion of Bionous . Any returned parts or products from you that have been replaced become the property of Bionous .
Limitations
You expressly acknowledge and agree that your use of this Product and accompanying software ("Software") is AT YOUR OWN RISK and that the Product and Software are provided "AS IS", subject only to the terms and conditions of the warranty above.
BIONOUS (i) DISCLAIMS ANY EXPRESS OR IMPLIED WARRANTIES AS TO THE NONINFRINGEMENT, MERCHANTABILITY, OR FITNESS FOR A PARTICULAR PURPOSE OF THE PRODUCT; (ii) SHALL IN NO EVENT BE LIABLE TO YOU OR ANYONE ELSE FOR LOSS, INJURY, OR DAMAGE CAUSED IN WHOLE OR IN PART BY FAILURES, DELAYS, OR INTERRUPTIONS OF THE PRODUCT; (iii) SHALL IN NO EVENT BE LIABLE TO YOU OR ANYONE ELSE FOR ANY DIRECT, CONSEQUENTIAL, INCIDENTAL, OR SPECIAL DAMAGES, INCLUDING BUT NOT LIMITED TO ANY LOST PROFITS OR OTHER LOSSES ARISING OUT OF OR RELATING TO THE USE OR INABILITY TO USE THE PRODUCT OR SOFTWARE OR ANY DECISION MADE OR ACTION TAKEN BY YOU IN RELIANCE ON THE PRODUCT OR SOFTWARE, EVEN IF ADVISED OF THE POSSIBILITY OF SUCH DAMAGES. THE ENTIRE RISK AS TO THE QUALITY AND PERFORMANCE OF THE PRODUCT OR SOFTWARE IS WITH YOU AND SHOULD IT BE DEFECTIVE, YOU ASSUME THE ENTIRE COST OF SERVICING, REPAIR OR CORRECTION OF SUCH DEFECTS, SUBJECT ONLY TO THE TERMS AND CONDITIONS OF THE WARRANTY ABOVE.
This warranty gives you specific legal rights. You may also have other rights granted under state law which vary from state to state. Some jurisdictions do not allow the exclusion or limitation of warranties or incidental or consequential damages, so some of the above limitations or exclusions may not apply to you.
---
How long does the SensePet Clip need to stay on the pet's ear?
---
Taking Vitals take about 80 seconds. Once App is done with taking vitals you can remove the SensePet from your pet's ear and turn it off. The SensePet Clip will turn itself off after 5 minutes of inactivity.
---
Will the SensePet Clip hurt my pet?
---
SensePet Clip design to be comfortable for your dogs and cats. Initially, they need to get used to it. Once they get used to it, they love to have their vitals taken with SensePet Clip, especially if they get treats at the end.
---
---